A Police Helicopter Pilot Gets a Burglary Alert from His Doorbell Cam and Hunts Them Down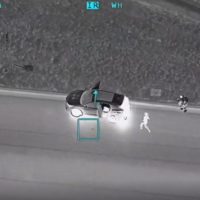 Three teens in Deltona, Florida were driving around at two in the morning on Sunday, looking for cars to break into.  And someone's Ring doorbell cam got them on video.
The person was at work when he got an alert that showed them trying to break into a truck in his driveway.  But he was still in a great spot to catch them . . .
Because he happens to work as a POLICE HELICOPTER PILOT.
He was up in the air when the alert came through on his phone.  So he used the helicopter's night vision camera to track them down.
Cops on the ground tried to pull them over but couldn't.  So he kept following the car while they set up spike strips.  And all three of them were arrested.
Police found a bunch of wallets in the car, and it turned out the car itself was stolen.  They're facing multiple charges.
Pic: The Ring doorbell video screenshot.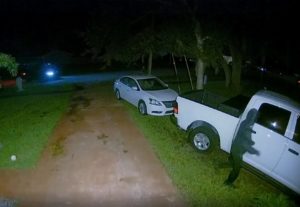 Ladies… here is your worst nightmare. Your good-looking trainer is helping you stretch at the gym in front of the class…. And you let one rip!
Today on the show:
Daily Dumbass Report at 6:20
We give you 2 chances at the Morning Cash Quiz at 7:20 and 8:20.
You can qualify to win the $2000 Z-Rock Stimulus Check! Be caller %4 when you hear your cue to call.
ABC News & Z -Rock News at 6:45, 7:45, and 8:45
Strange News Reports
Good News at 9:20
This dog makes a weird noise when kissed on the head. (Who doesn't?) 🙂
There's a 34-year-old guy named Christoph Herrmannsdoerfer from Williamstown, Massachusetts.  And on Tuesday, he was in a friend's car, driving through Vermont.
Well, apparently he had a, quote, "large pickle."  🙂
And he decided to throw it at a 59-year-old guy from the Vermont Agency of Transportation who was working on the side of the highway.
The large pickle hit the guy in the back and, according to the police report, quote, "caused him pain."
The guy is facing misdemeanor assault charges.
Does he look a little like Layne Staley from Alice In Chains? (His selfie is in the story!)
Good News Update at 9:20.
The Tennessee National Guard was set up in front of the state capitol on Monday in full riot gear.  But the protesters were peaceful and started calling for them to lay their riot shields down . . . and they did it.
Happening now: National Guard is blocking the group from coming up to the Capitol. Forming a wall in front of the steps. Several Dem lawmakers had walked down to meet with protesters. pic.twitter.com/lqgoYyfVb8

— Natalie Allison (@natalie_allison) June 2, 2020
A former firefighter who opened a sports bar in Minneapolis lost everything to looters.  But after his emotional interview went viral, people started donating on GoFundMe.  And he now has over a MILLION DOLLARS to help him rebuild.
#MinneapolisRiot This isn't even protesting anymore. Swear people go too far pic.twitter.com/gNCjWwzOmz

— kreeche (@Kreeches) May 29, 2020
A group of protesters in Louisville formed a human chain to protect a cop who got separated from his unit.  And a group in Brooklyn blocked the doors of a CVS to stop people from looting it.
I'd plaster this powerful photo across every front page: Police officer got separated from his unit in Louisville, KY… and several black men formed a human barrier to protect him. #protests2020 #honorgeorgefloyd pic.twitter.com/X1Re8gG3JC

— Steve Dennis (@SteveDennis71) June 1, 2020