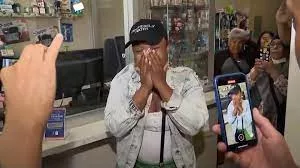 A California woman is being accused of fraud after claiming to have won the $1.08 billion Powerball jackpot.
After it was confirmed that the winning ticket was sold at a Las Palmitas Mini Market in California, a woman celebrated her alleged win in the store last week.
Footage, captured by local news channel KTLA, went viral last week, showing the woman screaming and thanking people for her supposed win.
Then she ran away and fled in a car.
But the unidentified woman, who did not do interviews, is now being accused of lying about being the winner by the store that sold the winning ticket.
Sarai Palacios, the granddaughter of store manager, said that the woman seemed to be acting and believes "she just wanted to be on TV."
The real winner has not yet claimed the prize.