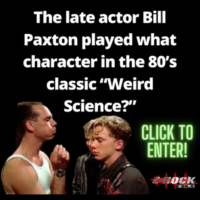 The late actor Bill Paxton played what character in the 80's classic "Weird Science?"
---
The online and on-air entries will be combined, and one winner will be drawn Wednesday, August 31st.  The winner will receive $250.00!
---
Past Questions and Answers:
---
What is "The Munster's" address?
1313 Mockingbird Lane
---
What war movie won the Academy Award for Best Picture of 2009?
(*Hint: The Oscar was awarded to this film in March of 2010) 
The Hurt Locker
---
Which "Game of Thrones" actor was nominated for 8 Emmys?
Peter Dinklage
---
What Australian music group asked, "Have You Heard About The Lonesome Loser" in 1979?
Little River Band
---
It's a popular type of red wine, and "Anchorman's" last name.
Burgandy
---
According to the Rolling Stones… "You Can't Always Get ________". What is it?
What You Want
---
On the TV show "Family Guy," what's the name of Peter's friend who "likes the ladies?" The one who says "Giggity."
Glenn Quagmire
---
What's the name of the long-time Seattle Mariner broadcaster who said "My Oh My?"
Dave Niehaus
---
Adam Sandler plays a 27-year-old repeating grade school in this 1995 movie. What is it?
Billy Madison
---
In the Empire Strikes Back, what's Han Solo's response when Princess Leia says "I Love You?"
"I Know"
---
What 80's movie starred Dudley Moore as a drunk millionaire who is on the brink of an arranged marriage?
Arthur
---
Nicolas Cage and Sean Connery starred in what 1996 action movie about chemical warfare on Alcatraz.
The Rock
---
What's the name of the slightly unstable groundskeeper played by Bill Murray in the movie Caddyshack?
Carl Spackler
---
What's the name of Austin Powers' arch nemesis? You know…the bald guy played by Mike Meyers.
Dr. Evil
---
Mycology is the study of what?
(Hint: they like to hang out with Fun-gi's)
Mushrooms
---
What's the name of the TV show set in a Nazi Germany P.O.W. camp? It starred Bob Crane and a young Richard Dawson.
"Hogan's Heros"
---
What's the name of the 1994 film that revived John Travolta's movie career?
Pulp Fiction
---
In the original Matrix movie… What color of pill did Morpheus offer Neo to show him what the Matrix really was?
---
What nickname was given to the Seattle Seahawk defense in 2013, featuring Richard Sherman, Earl Thomas, Kam Chancellor, and more? What was their nickname?
Legion Of Boom!
---