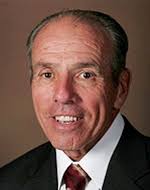 KOZE news has confirmed that former long-time Lewis-Clark State Head Baseball Coach Ed Cheff has passed away at the age of 78.
Cheff served as LC's head baseball coach for 34 seasons (1977-2010) and led the Warriors to an unprecedented 16 NAIA national titles. He posted a 1,705-430-4 record with LC State for a .799 winning percentage. His win total is 5th all-time among all college baseball coaches.
Coach Cheff was rarely unavailable to speak with KOZE sportcasters over his three-plus decades at Lewis-Clark State.
Below is a portion of an interview Ed did with Brian Danner just days before the final NAIA World Series he coached in 2010.
Coach Cheff's accomplishments are nothing short of amazing. Under his leadership, the Warriors captured 16 NAIA national titles during a 25-year span, won at least 40 games for 30 straight seasons, and produced 114 players who were selected in the Major League Baseball Draft, including 14 who made it to the big leagues.

During Cheff's tenure, LC State played in 11 consecutive NAIA World Series championship games and won eight. For perspective, no other program has won more than four NAIA Series titles in its history.

In 2017 the historic baseball facility was named in his honor as Ed Cheff Stadium.

Tags: