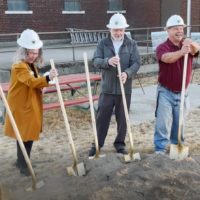 A groundbreaking ceremony took place yesterday afternoon to set plans in motion for a new water treatment plant in Lewiston. Dustin Johnson, Director of Public Works for Lewiston, says this project has been along time coming.
Johnson says the new plant will be more energy efficient and be able to serve the city for decades to come. Soon after the old plant shuts down later this week, the demolition of the structure will happen. The construction of the new plant is expected to take two years. Johnson revealed how water needs will be met in the meantime.
During a short speech at the ceremony, City Manager Alan Nygaard expressed his confidence in the project and stressed how important it is to the community.
To see a quick video of the ceremony, see below.

Tags: