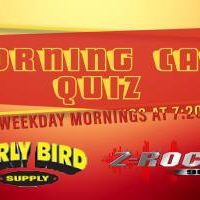 Tune in at 7:20 on the Great Day Morning Show to qualify to win $400 this month.
The person who answers the most trivia questions correctly without missing one will get the money.
Justin Rowan answered 5 in a row… and he's the guy to beat!
Lee McVey will give you a crack at the cash… courtesy of Early Bird Supply and Z-Rock.