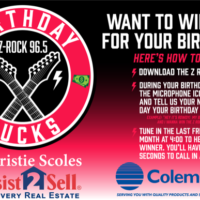 Lisa Hartwig won $250 in April!
Enter to win the Birthday Bucks during the month of your birthday.
Melissa will draw a winner at 4:00 on the last Friday of the month.
If she says your name… you'll have 9 minutes, 65 seconds to call and claim your cash!
208 746-1995.
How to enter:
Open the free Z-Rock app.
Touch the microphone button. Say your name, birth date, and a message for us if you'd like.
Enter your info.
Hit "send."
That's it! The easiest $250 you'll ever make.
Sponsored by Christie Scoles at Assist2Sell and Coleman Oil Company.