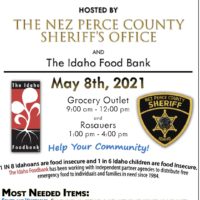 The Nez Perce County Sheriff's Office and Idaho Food Bank are doing a food drive Saturday, May 8 from 9-Noon at the Grocery Outlet, and at Rosauers from 1-4.
1 in 8 Idahoans is food insecure.
The Sheriff's department volunteers want to help local people in need.
See a list of needs and more information at koze.com.