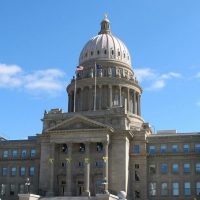 The Idaho House has passed a proposed constitutional amendment allowing the Legislature to call itself back for a special session under certain conditions.
The legislation passed in the House on a 54-15 vote this week, with all six north central Idaho representatives voting in favor. The Senate passed it earlier on a 24-11 vote.
It now goes to Idaho voters in the November 2022 general election for final approval.
The Idaho Constitution currently gives the governor the sole authority to call a special session. Lawmakers have long been upset by that limitation – especially during the coronavirus pandemic.
Senate Joint Resolution 102 would amend the Constitution and allow lawmakers to call themselves back for a special session, upon written petition by 60 percent of the House and Senate membership.
The special session would be limited to the subject matter outlined in the written petition. (Lewiston Tribune)