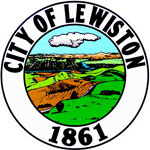 Lewiston is set to retrofit the city's aging water treatment plant with the help of Stantec, an engineering services company. Project lead Bryan Black says it's been a long process to get these plans in motion.
Black says the plan is to retrofit the existing plant with new parts and equipment, rather than build a whole new plant from scratch.
Despite the challenges, Black says the benefits will be worth it.
Work has already started on the project, with the plan's first draft being submitted to the city and the state and construction set to start in October. The plant should be finished by December 2022 and will start producing water by early 2023.

Tags: