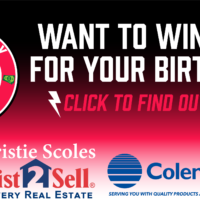 Congrats to Jill True! She won the Birthday Bucks last month.
Download the Z-Rock App and touch the microphone at the bottom.
Tell us your name and birthday.
Then listen for Melissa to say your name on the radio.
She'll draw a winner at random on the last Friday of the month at 4:00.
Enter to win $250 on the free Z Rock App!
Sponsored by Christie Scoles at Assist2Sell and Coleman Oil Company!