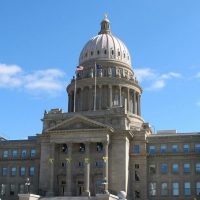 Lawmakers in the Idaho House passed legislation Tuesday to trim a governor's powers and increase their own during declared emergencies such as the pandemic.
The House voted 49-20 to send to the Senate the legislation spurred by anger with Republican Gov. Brad Little's response to the pandemic and lawmakers' frustration with their inability to do anything about restrictions he imposed. The vote total is notable because it's enough to overcome a potential veto by Little.
Restrictions associated with Little's emergency Stay At Home Order issued in March to battle the rising number of coronavirus cases in the state, angered lawmakers, as did the classification of some workers as "non-essential" and the banning of gatherings, particularly at churches that health officials feared could turn into super-spreader events.
Lawmakers also say they should have had a role in allocating the $1.25 billion in federal coronavirus rescue money the state received early last year and that Little spent with the advice of a committee he formed for that purpose.
The bill, now headed to the senate, would allow a governor to declare an emergency and extend it past 60 days, but only to ensure federal funding continues. The measure would require any restrictions accompanying a governor's order to expire after 60 days unless renewed by the Legislature. Currently, emergency declarations last 30 days and a governor can simply renew them.
The bill would allow the part-time Legislature to extend an emergency for 365 days. (AP)