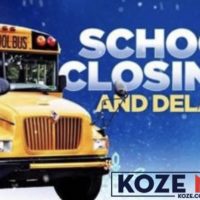 Updated  2/16 at 7:15 AM
Delays:
Asotin/Anatone schools will also be delayed 2 hours.

Garfield-Palouse: Buses will run on paved roads only. No preschool, breakfast, or zero hour.

LCSC:

Kendrick-2 hour delay
Due to icy conditions, LC State's Lewiston campus will open at 10 a.m. on Tuesday, Feb. 16, a two-hour delay. Classes scheduled before 10 a.m. will be held remotely. Conditions will continue to be monitored and any decision to close campus for the full day would be determined by 6 a.m. If no announcement is made, the campus will open at 10 a.m. as planned.
Closed:
Lewiston: All schools in the district will be closed today (2/16)

Clarkston:

In-person classes have been canceled.

All classes will be held remotely

Culdesac

Genesee

Grangeville

Kamiah

Lapwai

Orofino

Nez Perce

Timberline (Weippe)

Troy

Whitepine (Deary & Bovill)

Clearwater Valley (Kooskia)

University of Idaho (Classes & events)
School facilities in the Moscow School District will be closed Tuesday, including Moscow High School, Paradise Creek Regional High School, Moscow Middle School, Lena Whitmore Elementary, McDonald Elementary, Russell Elementary, and West Park Elementary. All students will be on a distance learning schedule and should check their CANVAS accounts for class assignments and directions before 8:30 a.m., according to a message from Superintendent Greg Bailey. All after-school activities are also canceled unless weather and road conditions improve, and a school district representative issues a notification of the change. (Lewiston Tribune)

Tags: