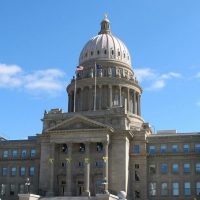 A power struggle between state lawmakers and Idaho Republican Gov. Brad Little has begun.
Republicans in the House brought forward three pieces of legislation Tuesday aimed at increasing the part-time Legislature's authority while limiting the governor's regarding emergency declarations. Public hearings on the legislation are expected in the coming weeks.
Currently, a governor's emergency declaration is limited to 30 days, but the governor can renew it. The legislation put forward this week requires the declaration to expire unless the legislature renews it. The legislature could also extend the emergency declaration.
An additional measure seeks to add a constitutional amendment allowing lawmakers to call themselves back into session. Currently, only the governor can call a special session. Specifically, lawmakers could call themselves back into session if 60% of members in each the House and Senate approve.
Finally, lawmakers have put forward legislation to immediately end the governor's coronavirus emergency declaration. If lawmakers were to pass the legislation, it would cost the state millions of dollars from the Federal Emergency Management Agency that the state is eligible for with the emergency declaration in place. (AP)