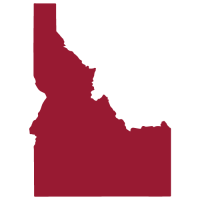 Idaho Governor Brad Little held his State of the State Address and Budget Address this morning, touting the state's budget gains in the midst of the pandemic and laying out his plans for Idaho's future. He began by condemning the actions of those who attacked the Capitol last week and reflected on the effects coronavirus has had on Idahoans. But he was cautiously optimistic about the future.
Little then revealed his plan to sustain economic prosperity for Idaho.
To achieve that cut, Little is proposing 295 million dollars in one-time tax relief and 160 million in permanent tax cuts. Little then moved on to his other budget priorities, which include transportation, agriculture, economic development and education.
Little also prioritized investing in state and local highway infrastructure and water projects, as well as expanding broadband. He also downplayed the effect of climate change on wildfires in the region, instead focusing on active land management. To read the transcript of the speech, or see a summary of the budget highlights, click on the links below.

2021-State-of-the-State-and-Budget-Address

Tags: