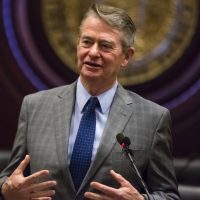 With the number of coronavirus cases in Idaho rising sharply, Idaho Governor Brad Little has announced the state will move back Stage Two restrictions under his Idaho Rebounds plan.
The governor spoke about the soaring infection rate and how it has put extreme stress on the state's hospitals and medical facilities – some of which are on the brink of rationing care.
In efforts to alleviate healthcare concerns, Little signed an executive order to deploy the Idaho National Guard.
While the governor stressed the importance of wearing a facial mask, he fell short of calling for a statewide mandate. Idaho will remain in Stage Two for at least two more weeks.

Tags: