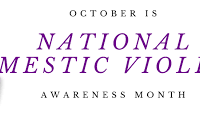 Wayland has released an emotional song in observation of National Domestic Violence Awareness Month.  They want to do their part to end domestic violence, sexual abuse, and human trafficking. The new song "No More" is an anthem for anyone who has survived any of those horrific situations. (Hear the new song below)
In this video, Wayland talks about resources available in the LC Valley.
The YWCA 24-hour crisis line is  208-746-9655 or 800-669-3176. 
Thanks to Wayland for supporting the YWCA of Lewiston and Clarkston… and women all over the world.  Get to know Wayland!