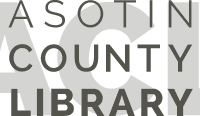 The Asotin County Library's downtown branch located at 417 Sycamore St, Clarkston opened to the public on Monday, October 5. The library's three branches closed to the public in March because of COVID-19. The Heights and Asotin library branches remain closed.
The downtown branch is open from 11 am – 2 pm Monday through Friday for Grab-n-Go browsing; visitors are asked to limit their visit to 15 minutes. Facemasks are required and social distancing is being observed. A limited number of computers are available by appointment. In addition, laptops are available for parking lot use during the library's open hours. Patrons may also check-out mobile hotspots for access to high-speed internet.
The Library continues to offer curbside service from 3:30 – 5:30 pm Monday through Friday.