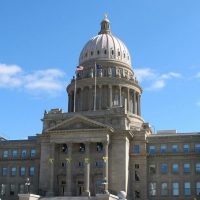 Fifteen Idaho House Republicans gathered in the state House chamber Tuesday morning in Boise, but despite calls from far-right groups, they didn't take any votes or attempt to conduct any legislative business.
A crowd of more than 200 supporters, many of them armed, filled the fourth-floor public galleries to watch and cheer on the lawmakers, who aired grievances against GOP Gov. Brad Little and his handling of the coronavirus pandemic, and read a multipage "proclamation" that Midvale Republican Judy Boyle had posted on Twitter the night before, listing a series of allegations about the governor's actions, charging that he's violated the state's separation of powers provisions in his COVID-19 response actions.
Three north central Idaho lawmakers attended the gathering, including Lewiston's Mike Kingsley, White Bird's Priscilla Giddings and Paul Shephard of Riggins.
Boyle said lawmakers haven't had a chance to weigh in on the governor's response to the coronavirus pandemic, including changes to the May primary election, which went all-absentee because of the pandemic.
Nampa Representative Brent Crane spoke about the possibility of creating a process that would allow lawmakers to call for special legislative sessions in the future. The Idaho Constitution gives only the governor that power; changing it would require two-thirds support from each house of the Legislature plus a majority vote of the people in a general election. (AP)