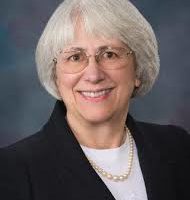 Idaho Rep. Thyra Stevenson, of Lewiston, has been hospitalized after suffering a heart attack Monday evening.
The 75-year-old Stevenson reportedly was at a friend's house when the incident occurred. She was taken to St Joseph Regional Medical Center, where her condition is unknown.
The three-term Republican previously served four years on the Lewiston City Council. In Boise, she currently serves as vice chairwoman of the House Revenue and Taxation Committee, as well as the agricultural affairs and business committees.
Stevenson's background includes experience piloting commercial passenger and cargo planes, serving as a military contractor, teaching high school and college-level classes, and running a small business.
Stevenson faces fellow Republican Aaron von Ehlinger, of Lewiston, in the May 19th primary election for the 6th Legislative District House A seat. No Democrats filed for the position so, barring a write-in challenge, the winner will represent Nez Perce and Lewis counties in the Idaho Statehouse for the next two years.