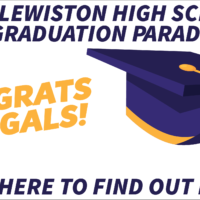 Lewiston High School officials and the city of Lewiston have announced the route for the 2020 LHS graduation parade scheduled for May 30th.
LHS Principal Kevin Driskill says the parade will be led and followed by Lewiston Police and Fire Department personnel and graduates and their immediate family members only will begin lining up at Lewis-Clark State College at 1:30pm with the parade beginning at 2:30.
Administrators are also working to coordinate dates for graduates to pick up their caps and gowns.
Additionally, graduates who ordered graduation announcements from Idaho Recognition may pick them up in the main office at LHS Monday through Friday from 8am to 2pm.
The graduation parade and all proceedings, including pre-recorded speeches from valedictorians and salutatorians and addresses from Lewiston School District Administrators, will be broadcast live on KOZE radio and koze.com. This will include a live video feed as well as a live broadcast.
MAP OF GRADUATION PARADE