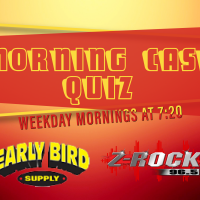 Mike Kelly is the latest winner on the Morning Cash Quiz. Sponsored by Early Bird Supply.
Hear the questions below:
Play along and scream out the answers… or call in to win at 7:20 on the Z-Rock Morning Show.
Early Bird Supply is now serving you in four locations! Lewiston, Clarkston, Moscow, and Grangeville.