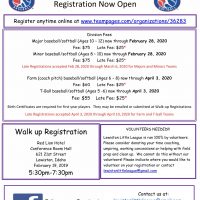 If you sign up early you'll save $25.
Majors and Minors Registration is open until 2/28/2020. We will accept late registrations through March 6th, 2020.  Our Farm and Tball registrations will be accepted through April 3rd, 2020 and Late Registration ends April 10, 2020.  Players can register HERE.
Lewiston Little League is also offering a walkup registration Wednesday, Feb 19, at the Red Lion Hotel from 5:30 to 7:30.  We will also be taking registration at our LC Baseball Day Saturday, Feb 22 from noon to 3:00.