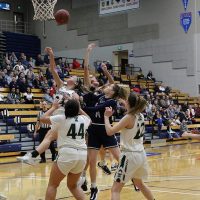 Women's Basketball:
The No. 21 Lewis-Clark State Women's Basketball team won last night with a 76-62 victory over Montana Tech. Kiara Burlage (26) and Abbie Johnson (25) both dropped a career-high in points, while Hannah Burland grabbed a career-best nine rebounds.
"Our teammates just saw us and we found each other well," Burlage said. "We got the ball inside a lot more. An inside-out pass is the easiest 3-pointer to make so that was a big thing."
With the victory, LC State is now tied for first place in the Frontier Conference.
Men's Basketball:
 The No. 5 Lewis-Clark State Warriors picked up their 11th conference victory of the season, 23rd overall, after a grueling battle with the Montana Tech Orediggers. Ahead by one at the half, the Warriors used a big second to gain momentum and pull away for the win.
"We try to win in a lot of different ways," junior Travis Yenor said. No game is the same, and that was a grinder. We played back-to-back nights; back-to-back 40-minutes games. We are tougher together."
The homestand continues on Thursday when the Warriors host No. 11 Providence at 7:30 p.m. in the Activity Center.
Thanks to Alicia Alexander, LCSC Sports Information Director.