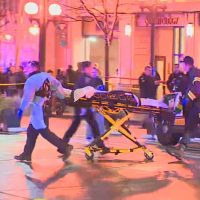 Several people were hurt Wednesday evening when gunfire rang out in the heart of downtown Seattle, less than two hours after an officer-involved shooting occurred in Belltown and about 24 hours after a man was shot at the Westlake shopping center.
Police said they were searching for a suspect who opened fire at or near a McDonalds at 3rd and Pine streets shortly after 5 p.m.
It was not immediately clear what prompted the gunfire or the extent of the victims' injuries.
Several police officers responded to the scene as they looked for a suspect.
There were several police cars at the scene and a KOMO News reporter on the scene saw at least three people being placed on stretchers.
That officer shooting occurred less than three hours after a 28-year-old man was shot in the Belltown neighborhood of Seattle by police.
Police say the suspect suffered non-life threatening injuries and that the shooting in the 300 block of Blanchard Street involved both the police department and the King County Sheriff's Office.
Seattle Police tweeted the following:
Officers investigating shooting near 4th and Pine. Multiple victims. The suspect has fled, and police are searching for him. Officers and medics are providing first aid to the injured. Additional information to come.
KOMO/AP /ABC News
Photo credit: KOMO