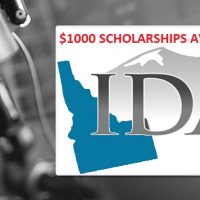 SCHOLARSHIP SEASON COMING UP
ISBA offers two categories of scholarships for which the application deadline is March 15.
The first is our academic scholarships which offer $1,000 per scholarship to students majoring in a broadcast related subject at an Idaho state university.  These scholarships require a recommendation from an ISBA member station GM, so take a few moments to promote their availability on your stations.
The second is our ISBA KIDS scholarships.  These go to any graduating high school seniors who are children of your stations' employees.  They are $750 each and can be applied to any school of higher education anywhere in the country for any major.  Please post the attached application on your employee bulletin board so everyone in your station will know of their availability.