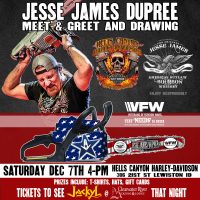 Jesse James Dupree called to talk about the custom chainsaw, his love for soldiers and how they've touched his life.  He also talked about how hard they will rock the show this Saturday at the Clearwater River Casino.
Listen to his call below:
Help local soldiers in need by dropping by Hells Canyon Harley Davidson this week!
You have a chance to give to the VFW's "Unmet Needs" program which helps local servicemen and women can get fast financial help.  You can also get into a drawing to win $500 to spend at HCHD with the Santa's Wish List! See the dealership for details.
Jesse James Dupree will do a meet & greet Saturday at Hells Canyon Harley Davidson at 4:00 pm.
Click HERE to visit Hells Canyon Harley Davidson.
Do you have your tickets to see Jackyl at the Clearwater River Casino?  BUY TICKETS!