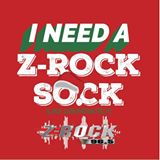 First time playing the contest? When you hear the official sounder… be caller 9 at 208 746-1995.
This is what the "Sock Sounder" sounds like:
96 socks. 96 winners!
If you win a Z-Rock Sock you're entered to win one of our "KOZE Christmas Bonus" prizes. Including a $1000 shopping spree from The Diamond Shop, etc. Good luck!