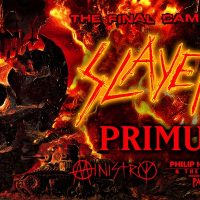 Rowdy will give away some tickets to see Slayer at the Spokane Arena. Listen to Metal Meltdown, Friday nights at 9:00. (Sponsored by Sutton Salvage)
Tom Araya will tell you when to call the contest line. 208 746-1995.
Slayer: The Final Campaign with Primus, Ministry, Philip H. Anselmo and the Illegals performing a vulgar display of Pantera. Click HERE for details.