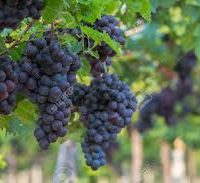 Idaho wine grape yields likely will fall short of last year's robust totals, though quality is expected to improve.
According to the Idaho Grape Growers and Wine Producers Commission, the state's wine grape harvest on average started 10 to 14 days later than usual. An unusually cool September slowed maturation and the start of harvest, which as of Tuesday was about 30 to 40 percent completed, and likely to conclude in early November, depending on the weather. Overall, yields likely will be slightly down compared to 2018, though quality should be higher.
Last year's total harvest of 2,800 tons compared to about 300 in 2017, following an exceptionally harsh winter. The excellent 2016 crop helped many wineries sustain operations the following year.
The commission says growers are planting additional acres, but at a rate that lags the increase in demand driven by population growth, among other factors. With only a couple of days above 100 degrees this summer, grapes ripened evenly without having to slow maturation to combat the heat, some in the industry say summer conditions were good for growing and brought minimal mildew and insect pressure.
Growers in the second half of this week faced the prospect of a hard freeze that would halt leaves' photosynthesis and grapes' sugar gains, among other impacts. While grapes may add sugar after a hard freeze through yield-reducing dehydration, the flavors won't mature anymore.
Idaho growers may buy grapes from Washington and other states when production drops or demand outstrips supply. (Capital Press)