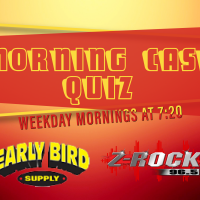 Ten questions in sixty seconds. Play the game at 7:20… or shout out the answer at home or work.
We add $5 a day until we get a winner!
Here are the questions revealed so far this round…
Thanks to our sponsor Early Bird Supply.
"Aerial tramway" was the least popular this on Twitter in 2018.
From October to March, Cadillac Mountain in this state is the first place to see the sun rise in the U.S.
What's the 8th letter of the Greek Alphabet?
Whose retirement from being a plumber was confirmed by Nintendo in 2017?
While

this

document was adopted on July 4th, it received most of its signatures on August 2nd.
Who was the number 1 pick of the 2018 NFL Draft?
What future Eagle sang backing vocals on Bob Seger's "Ramblin' Gamblin' Man?"
What two businessmen originally wanted to start a bagel company but couldn't afford a bagel machine?
???
???