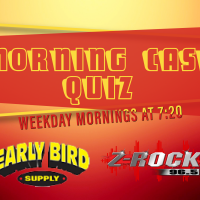 It's Classic Z-Rock Trivia this round!
The 1st one to answer all ten questions will win $50!
Thanks to Early Bird Supply.
What famous group did Jimmy Page play in before Led Zep?
Who replaced Keith Moon as the drummer in The Who?
What band was Peter Frampton in before going solo?
What band is mentioned in the song "Smoke On The Water?"
What band released the album "Zenyatta Mendatta?"
???
???
???
???
???