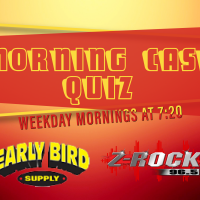 We're asking you to name the people in some of the best rock bands in history!
The first person to get through all ten… will win a cash prize.  Good luck.
Sponsored by Early Bird Supply in Clarkston. 
1st & last names of the people in the following bands…



Motley Crue original lineup and "the other guy."

The original lineup of KISS.

The Police.

Van Halen's original lineup.

The Beatles most famous lineup.

Nirvana's lineup on the "Nevermind" album.

U2's lineup on their albums.

Poison's lineup on their albums.

Queen's lineup featured in the movie

AC/DC's lineup on the Back In Black album.