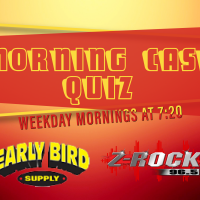 Listen to 96.5 at 7:20 for your chance to call. Caller 5 will have a shot at 10 questions in 60 seconds.  The first person to answer them all will win $50.                             Sponsored by Early Bird Supply. 
Randy Ball was caller 9 om March 6th.
On a standard Monopoly board, what are the names of the green properties?
He starred as David Banner on the TV version of "The Incredible Hulk."
This band has a movie about their life debuting March 22 on Netflix.
Which 80's music video featured the singer almost eating a roller coaster?
What band was on stage for Rockin' On The River's largest crowd in history?
Who was on stage for Rockin' On The River's 2nd biggest crowd?
The "Here's Johnny" scene destroyed more than 60 doors for what movie?
From 1960-2008, a member of this family provided play by play for the St. Louis Cardinals radio and TV broadcasts.
A male beaver is called a what?
Since 1982, this movie holds the record for most weeks at #1 at the domestic box office.