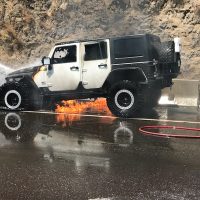 A brush fire ignited by a burning vehicle briefly closed both northbound lanes of Highway 95 near Spalding Sunday afternoon.
The Idaho State Police responded to a 2013 Jeep catching fire as it was towed by a motorhome east of Lewiston near the intersection of Highway 12.
No one was injured, but the fire ignited the adjacent hillside, prompting several agencies to respond throughout the day, and Avista shut down power on the north side of Highway 95.
Crews have reached 18 percent containment on a wildfire that continues to burn south of Riggins.
The Rattlesnake Creek Fire has consumed 3,600 acres near mile marker 184 along Highway 95.
More than 500 personnel – including 21 engines, 9 water tenders, and 4 helicopters – made good progress Sunday, constructing direct line around the southern flank of the fire, and connecting dozer line with new handline. Burnout operations along the fire's northwestern perimeter Saturday were successful, and crews began mopping up in the area. Hand line along the northern flank continued to hold as crews patrolled and mopped up. Firefighters on the southwestern flank began constructing indirect line, as managers assessed possible locations to engage the fire.
Crews continued to patrol the Highway 95 corridor and were completing structure protection assessments on residences to the north and south. Crews hope to secure the line on the fire's northern flank Monday and will begin transitioning resources to efforts along the southwestern flank.
No structures have been lost, and residents in the North Pollock, Whitewater Wilderness Ranch Estates, and Pinehurst areas remain in pre-evacuation status. (Idaho State Police, Lewiston Tribune, U.S. Forest Service)