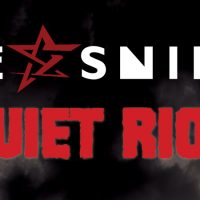 Dee Snider & Quiet Riot are coming to Northern Quest Resort & Casino on Saturday, April 21st.
Tickets go on sale January 20 at Ticketswest.com.
You can "Win It Before You Can Buy It" with Sutton Salvage & Z Rock!
Listen all week for the "Sutton Salvage Twisted Metal"
Caller 4 will qualify to win. (Must be 21 or older)
The "Twisted Metal" prize package includes:
Free tickets to a show at Northern Quest Resort and Casino.
A ride in the Z Rock Limo, with Ride n Style Limousine.
Rowdy will draw one name from all the qualifiers this Friday.
If that's you… call in to claim your prize!
It all happens on Metal Meltdown. Friday at 10:00 on Z Rock 96 5.