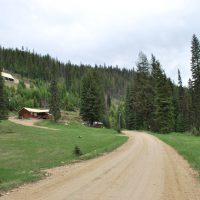 An environmental group has dropped its legal challenge to a logging project aimed at reducing wildfire risk near Orogrande on the Nez Perce-Clearwater National Forest.
The Friends of the Clearwater moved to dismiss its lawsuit contesting the project south of Elk City that calls for logging on some 300 acres and constructing 6 miles of temporary road.
The plaintiffs in November had argued the logging and road would be visible for years, if not decades, and could affect how the Forest Service or Congress deems the area's worth for wilderness designation.
In May, a federal judge in Boise rejected the group's request for a temporary injunction to halt the project.  Preparations for logging began immediately after that ruling, and the group opted to dismiss its case rather than appeal its motion for an injunction.
The timber sale has been purchased by Idaho Forest Group for $250,000.