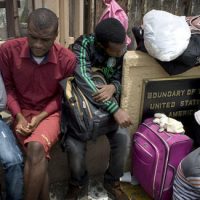 Idaho 1st District Congressman Raul Labrador has sponsored the Refugee Program Integrity Restoration Act, would reduce the maximum number of refugees resettled in the United States from 110-thousand a year to 50-thousand annually.
The change, sought by President Donald Trump, gives states and local governments veto power over any refugee resettlement within their borders; steps up security monitoring of resettled refugees until they qualify as permanent residents; and requires a review of all prospective refugees' social media postings, among other provisions.
Labrador says that while he supports America's refugee program, he says it needs to be modernized to keep up with the security challenges of today's world.
Labrador, who is running for Idaho governor in 2018, introduced a similar bill last year, setting the maximum number of refugees at 60-thousand a year.
It passed the Judiciary Committee last March, but didn't advance beyond that.  (Spokesman Review)