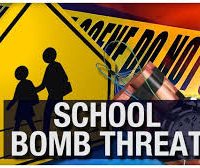 Two separate bomb threats forced Lewiston School District officials to evacuate students at both junior high schools Wednesday.
Jenifer Junior High students were evacuated to Bengal Field at around 9:15am after school officials received a bomb threat.  Students were allowed to leave with parents if they chose.  The evacuation order was lifted at 9:58am and classes resumed after the campus had been searched and no bomb was detected.
Meanwhile, a second bomb threat received at 1:58pm led to the evacuation of Sacajawea Junior High.  Students were evacuated to the school's football field where some were released to parents.  The evacuation order was lifted at 2:45pm after a search found no evidence of a bomb on campus.
Last May a series of four bomb threats led to the arrest of a Sacajawea 8th grade student.