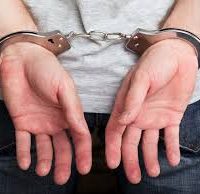 A Lewiston man was arrested in Whitman County early Saturday morning near Colfax.
According to a news release from the Whitman County Sheriff's Department, deputies stopped the vehicle for an alleged equipment violation around 1 a.m. near Prune Orchard Road.  After determining the vehicle was stolen, deputies attempted to make contact with the driver and passenger.  The passenger, who was carrying a backpack, allegedly ran from the scene.
After a brief search of the area, deputies found 36-year-old Charles Walters and his backpack, which contained two handguns believed to be stolen, several grams of heroin and miscellaneous paraphernalia.
Walters was arrested on charges of possession of a controlled substance, possession of a stolen firearm, possession of a dangerous weapon, being a felon in possession of a firearm, second degree criminal trespass and taking a motor vehicle without permission.
The driver of the vehicle, 23 year-old Amber Johnson from South Carolina, may also face charges as the investigation continues.  (Lewiston Tribune)