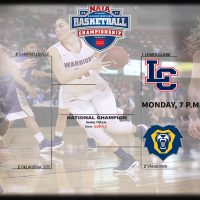 BILLINGS, Mont. – Many records were broken in the Elite Eight matchup between the LCSC women's basketball team and Westmont Saturday night, but the most important thing to the team was the final score.
The Warriors defeated Westmont 72-67 to reach the Fab Four for the first time since the 2001-02 season and for the first time in Brian Orr's tenure as head coach of the Warriors.
LCSC will take on Vanguard on Monday, March 20 at 7 p.m.
With the win, the Warriors improved to 34-1 on the season, breaking the record of 33 for the most wins in a season set by that Fab Four team in 2001-02.
*More at lcwarriors.com