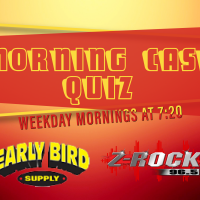 Ten questions in sixty seconds. Play the game at 7:20… or shout out the answer at home or work.
We add $5 a day until we get a winner!
Here are the questions revealed so far this round…
Thanks to our sponsor Early Bird Supply.
What 3-word catchphrase is engraved on Looney Tune's legend, Mel Blanc's gravestone?
What musician played Cinna in the Hunger Games movies?
What MLB manager holds the record for most wins?
What actress was cast as "Roz" in the pilot for the TV show Frasier but was fired after one episode?
???
???
???
???
???
???