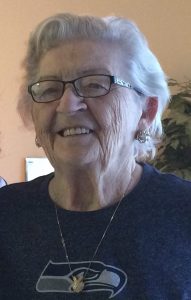 Nellie Irene (Cool) Fuhs died of cancer Friday, August 17 at Lewiston Transitional Care of Cascadia.  She passed peacefully with her daughter Connie and grand daughter Angie McVey by her side.  She was 94. 
Nellie was born October 22, 1923 on a ranch near Lead, South Dakota to Daniel and Irene (Groner) Cool.  She was the oldest of 7 kids and was preceded in death by all six of her siblings.  Nellie grew up in Wyoming, attending school through the 10th grade.  On April 2, 1939 at the age of fifteen, she married the love of her life, John Fuhs at Laramie, Wyoming.  In 1942 they moved to Richmond, California then to Potlatch, Idaho in 1944, finally settling in Lewiston in 1951.  Together they had four daughters, 13 grand children, 17 great-grand children and a few great-great grand children. 
Nellie worked for 10 years at Potlatch Corporation in Lewiston and was a member of the Moose, Eagles and President of the Good Sam Club.  Traveling was one of her passions and together she and John visited all 50 states and Washington D.C.  
Nellie loved watching the Mariners and Seahawks.  She enjoyed camping and fishing with family and friends, and took one final fishing trip to Winchester Lake in the spring of 2016 at the age of 92.  A lifelong democrat, she proudly cast her vote for the first female presidential candidate in history in 2016.  
Besides her parents and siblings, Nellie was preceded in death by two daughters, Darolyn Peterson and Kathie Soderstrom, two grand children and her loving husband of 60 years, John.
She is survived by daughters Connie (Gary) Riggers of Lewiston and Linda Fuhs of Custer, WA, 11 grand children, several great-grand children, several nieces and nephews and her wonderful "family" of loving caregivers at Lewiston Transitional Care, whom she adored.  
A memorial service will be held at Vassar Rawls Funeral Home on Monday, September 17 at 3pm.  A private inurnment service will be held at a later date.