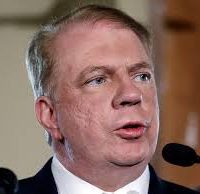 Seattle Mayor Ed Murray, beset over the past five months by sex abuse allegations, is resigning, bringing an end to a lengthy political career in which he championed gay rights and better pay for workers.
Murray's announcement that he plans to resign came after The Seattle Times reported that a fifth man – one of his cousins – had accused Murray of molesting him in the 1970s.
Though he has strongly denied all of the accusations against him, Murray had already decided not to seek re-election.  Murray said that while the allegations against him are not true, it had become clear his resignation was best for the city.
Murray has not faced criminal charges, and he denied abusing the cousin, blaming the allegation on resentment between families.
Washington Governor Jay Inslee said Murray is doing the right thing by stepping down, allowing the city of Seattle to move forward.  City Council President Bruce Harrell will become mayor upon Murray's resignation and has five days to decide whether to fill out the remainder of his term.
Before being elected mayor in 2013, the 62-year-old Murray was a long-time state lawmaker who led the campaign to legalize same-sex marriage in Washington.  As mayor he pushed to raise the city's minimum hourly wage to $15.  (AP)