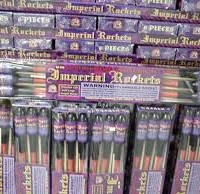 An Idaho House committee on Monday voted down legislation to ban the sale of aerial fireworks in the Gem State.
Shooting off aerial fireworks is already prohibited in the state, but a loophole in the law allows them to be sold legally, with some businesses requiring purchasers to sign an affidavit saying they won't set off the fireworks in Idaho.  On a 9-6 vote, the House State Affairs Committee opposed even introducing the legislation, refusing to allow a hearing on it.  The chief of the Boise Fire Department pushed for the measure after six homes in Ada County were burned last year in a wildfire caused by illegally discharged aerial fireworks.
House Minority Leader Mat Erpelding, the bill's sponsor, says it's on the House State Affairs Committee if more treasure Valley houses burn.
Some committee members said they opposed introducing the bill because it wouldn't also ban the sale of fireworks on Idaho Indian reservations, where sovereign tribes determine their own policy in accordance with federal law. (Spokesman-Review)